The Creative Writing Class — Meat & Hair
A Creative Writing Class Make Your Content Sizzzzle With Personality From "Meh and Marketey" to "I Can't Get Enough of Your Content!"
Make it rain with your writing. Have more fun than everyone else. And watch every hater stare when you walk into the room. Read on! 💪 -Ash Ambirge, Founder, Meat & Hair
If this is you, wave your pen in the air like you just don't care 🖊 🎶 🤌
We'll ignore the fact that that pen looks like a squid imitating a microphone— let's see if this sounds like you!
You write content on the internet 💻 like newsletters, blog posts, essays, articles, courses, lead magnets, books, socials, and sometimes inadvertent passive aggressive emails to clients—AND ALSO…

You're fun in real life (you swear!) but you can never seem to get it on the page. Everything you write ends up sounding a liiiiiitle bit like a term paper. (Okay, fine, a lot.) You read your stuff back to yourself and basically want to just swim into the mouth of a shark. 🦈

Worse, you end up sounding way more salesy & "bro marketing" than you intend: everything feels forced, you worry you sound too pushy, it's all a bit generic, trite, and cliché sounding, and the whole entire process is exhausting and time-consuming…you're starting to dread "content creation."😵‍💫

And honestly? Most of the time you feel like you're spitting into the wind. 👻 You're working so damn hard to "create content" but nobody seems to care / notice / open your Magna Carta masterpieces. Is it your subject lines? Your writing voice? That one time you said the F-word? (And then heard from 50 people who were offended…)

Or, the lovely option five: you're actually a stellar creative writer—or, at least decent!—and you're just here to make your craft 10,000% sicker. RESPECT.
You ever experience the following filthy thoughts while writing / procrastinating /contemplating binge nachos?
Ugh, that sounds stupid. What am I, a prepubescent crotch molecule?

On paper I never sound like myself—I swear I'm way more fun than this.

Who is this formal, stiff, characterless corporate robot???

GENERIC CITYYYYYY.

Everybody else is more clever / creative / cool / funny than me.

Why do I even bother?

Is anybody even reading this? Hello?

I SOUND LIKE MR. ROGERS ATE A SOCCER MOM.

I can't seem to communicate what I really think and feel.

I always sound awkward.

Yeah, nice caption, dipwit. "Comment below if you agree!" Real original, Jan! 🙄

No one's clicking. No one's buying. No one even cares I'm alive.

Am I wasting my time? Should I be cashing people out at Aldi's Discount Warehouse? Would that be a better use of my time?

Another launch with zero fanfare. Cool, cool, cool.

I don't even know what "my voice" is. (That fabled, elusive parable of the gods.)

What's too much? What's not enough? How do I ride the line between professional & personality?

"Just following up!" I wrote (yet) again, unsure what else to say.

Standing out is a cruel myth. We are all selling the same thing! How much different can I be?!

Writing isn't even fun anymore—it's just a giant, fleshy, smelly armpit of a chore…except I gotta do it, because this is what my entire career / life / marriage / FUTURE HOBBY AS OPRAH IS RIDING ON.
Writing content people LOVE doesn't have to feel like a thousand needles in the eye.
In fact, it doesn't have to be painful at all!
You don't need to be "a creative person" by nature.
And you don't need to spend endless hours crafting THE PERFECT content. (No one's got time for that!)
All you need to do? Is learn how to write with pleasure, so the people reading can experience pleasure.
That's it.
The World's Most Fun—And Practical–Creative Writing Class for Writing Content That'll Make 'Em Laugh & LOVE YOU.
Because writing should be fun! And when you do it right, it's really, really profitable, too. 🥳
When you take this class with me, Ash, you're going to learn how to:
Make Boring People, Topics and Businesses FASCINATING ⚡️ (Even if They Aren't)

Suck In Yo' Reader Every Time 🙀—And Make 'Em Beg to Read Your Every Last Word (Important for Sales)

Make Anything More Funny 🪄 With This 2-Second Trick (Handy if You're Short on Time)

Write Like a Genius 🎓 Even if You Don't Know What to Say and You're Repeating Yourself A Lot

How to Stand Wayyyyy Out 📣 from All the Other Horrible People—I Mean Darling Competitors— in Your Market (I Call This "Borrow a Ballgown")

Make Your Writing Less "Corporate-y" 🏢 In an Instant With THIS Super Fun Technique (Hint: It Involves Race Cars)

Lighten Up Serious Topics ✨—Like Requests for Payment—While Still Staying Tone-Appropriate (I Call This "The Glitter Lung")

Make Your Writing More Relatable 👯‍♀️ by Breaking Some Fancy China Over Your Knee

Steal the Show 🏆 By Giving These Kinds of Words a Boob Job (YUP)

Make a BIG Impression in Just One Paragraph 👀 (Especially Helpful for Writing Bios, Product Descriptions & Summaries)

Murder All Zombies & Demons 😈, AKA The Quick Fix to Clichés

And Make Your Writing More Clever 🤭 With Puns & Wordplays (Really Helpful for Naming Things and Having Some Fun!)
"Unlike any course I've ever taken. No need to watch videos on 2x speed, because there's no 15+ minutes of rambling things that were just said. There's no commercial interruption of the software, platform or friggin upsale that I need to succeed. No feeling "When are we going to get there" from the back seat of the faded yellow station wagon with peeling fake wood strips. Instead, it's almost subliminal. The curation of writing samples introduces me to the world outside my borders. I'm clicking, surfing and learning. But most of all I'm enjoying. You've inspired and empowered me." —Meaty, Hairy Writer and Creative Student Jill Michael, Portugal by way of Texas (in a recent, awesome move!)
Here's How It Works, Darling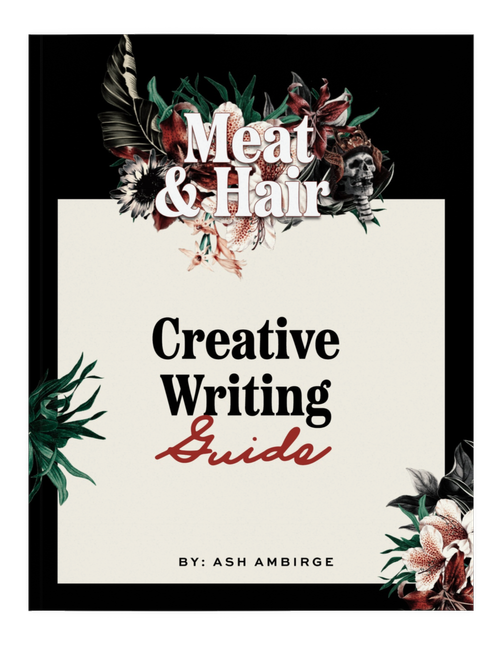 This class is unlike any other you've ever taken, and it comes in two parts!
First, you'll download our 200-page, beautifully designed creative writing guide so you can get started TODAY.
Plus, it makes it fast & fun for you to learn on the fly whether you're at the airport, waiting in line at the post office, at your kid's soccer game during a time-out, or just having a cozy cup of coffee at home.

And then, every Saturday you'll get each lesson also delivered to you by email, to help you reinforce each technique and also to relieve the pressure of you downloading the guide to your desktop and then never opening it. 🤣 We'll stay out of your inbox during the week while you're paying for mortgages and steaming your broccoli, and then come the weekend, IT'S PARTY TIME.

We include the guide in case you're excited to get started and don't want to wait 12 weeks to get through it all, but we also do it as an email course because sometimes we buy stuff and then never have time to get into it. Relate?! So, by breaking it up lesson-by-lesson, and delivering one each Saturday, we've found that our students end up learning way more—and they actually get through the material!
Win/win for everyone. ❤️
Plus, I know nobody's got time to log in and watch videos of me snotting all over myself, going into long-winded explanations, shaking the camera when you're trying to see what I'm writing.
So! Starting now. and then every single Saturday morning for 3 whole months—12 glorious weeks—you'll go behind-the-scenes with me, Ash, as I walk you through a delightful forest of the most fun, insightful, real-world creative writing techniques right in your inbox, showing you how to transform everything from generic, blah website copy, newsletter emails, sales pages, and Instagram captions, all the way to product descriptions, Craig's List ads, requests for payment, and even obituaries! (Though "How to Write a Friend Break Up Letter" is also top contender for fan favorite.)
You'll have a ton of fun seeing a wide variety of before/after transformations, and then learning how to replicate the effect using proven creative writing techniques, both classic and contemporary. (The internet has changed the way we write forever—let's make sure you're caught up!)
Proof Download