Getting new customers costs a fortune these days.
But there's one, ingenious exception that just works like clockwork…
This is the Simplest Possible Way to Make $100K+/yr as an Internet Entrepreneur
(Or Add Millions in Additional Revenue as an Established Brand)
Discover the foolproof process for intercepting people
on the verge of a buying decision, for free (or next to it)…
And watch as tiny trickles of traffic generate a full-time income – and beyond…
How to ethically, predictably "steal" competitor prospects like clockwork
Why even sites with tiny traffic (~50 users/day) can earn substantial revenue
Why SEO is only one of several channels where this works like crazy
How one of my clients uses the Conduit Method to earn $800,000+ /mo
Some of us remember the golden years of internet marketing – back when traffic was cheap, ranking in Google was simple, and competitors were clueless.
These days, everything just feels pushed to the limit…
Facebook Ads still work – but it's really hard to run campaigns at a profit anymore. Google Ads are even more expensive.
And ranking in Google organically is now much harder, and takes a lot more effort.
But there's a very profitable exception…
See, the most expensive part of marketing these days is reaching brand new prospects – also called top-of-funnel traffic. Things like generating webinar leads with FB ads, or targeting an obvious primary keyword on Google (eg. "CRM software").
Why is it so expensive? Because everyone else is gunning for those same keywords & audiences, which drives up the cost. They're all trying to fill up their funnels with the same prospects – and then educate and eventually convert them into customers.
But what if there was a way to skip all that stuff, and literally intercept your competitors' most promising prospects… plucking them right out of their funnel?
People who they've spent tons of money & time reaching, educating, nurturing & preselling…
And what if reaching these on-the-verge buyers was actually far easier, far cheaper, and far more profitable than doing all the "obvious" stuff?
The Lazy Marketer Presents: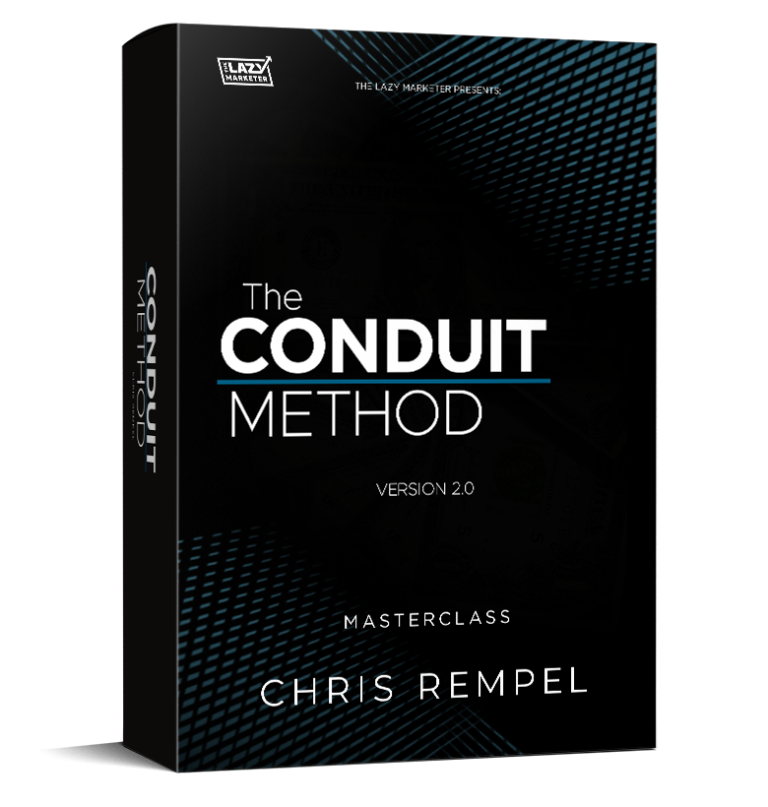 Discover how to intercept buyers in the final stage of the sales cycle – where you only need a trickle of daily visitors to generate serious revenue
Explore how to do this across multiple channels: organic & paid search, Youtube, as well as some more "adventurous" methods.
Unpack exactly what this looks like with a real-life 'Conduit site' that recently sold for 8 figures ($50M!)
In plain english, the Conduit Method is about building websites & campaigns that exclusively target buyers – not just visitors.
"I got my start in online publishing with Conduit Method 1.0 It was THE course that set me on the path to build up a 
6-figure /mo
 publishing business.
"I got a chance to get an early bird version of V2, and it exceeded my expectations (which were high). Chris knows affiliate marketing and content publishing like no other. He shares everything he knows to create 6 & 7 figure content sites.
"My favourite part of V2 are the concrete examples and content-planning diagrams that spoon-feed you exactly how to get the right traffic for affiliate commissions. I also believe his content outlines will be effective for publishers who monetize with display ads as well.
"In fact, I know his content methods work because I've been using them effectively to get high-earning traffic. Conduit Method V2 is a must-have guide for your publishing arsenal."
Module 1: Organic Search
Module 2: Paid Search
Module 3: SERP Intercept
Module 4: YouTube
Module 5: Skunkworks
Key Resources
The Conduit Method remains the most predictable way to acquire new customers (or generate affiliate commissions) like clockwork, even with little trickles of traffic.
And it's something you can realistically scale into a substantial business, based on the simple physics of targeting buyers – not just visitors.
Get access to everything: all of the Modules, Key Resources & the upcoming AMA…
All for just $195, one time.
(Which is roughly what a dinner date costs, these days)
Catching the Right Wave Can Change Everything…
If they're honest (and if they've had enough to drink), most successful people will admit that while hard work & persistence are certainly a factor in their story…
…usually there was a pivotal moment that acted as a catalyst, forever changing their trajectory – setting everything else into motion.
Maybe it was building hundreds of AdSense scraper sites back in the early 2000's.
Maybe it was being one of the first app developers on Shopify.
Maybe it was buying $500 worth of Bitcoin on a whim back in 2011 (now worth $83M).
Years ago, my "moment" was a random marketing experiment. I created a really basic shareware tool that promoted a related product, and uploaded it to Download.com, which took all of 20 minutes.
I completely forgot about it until weeks later, when my web host notified me about hitting my traffic limits. Curious, I logged into my affiliate dashboard… and my jaw dropped.
That stupid, 20-minute experiment ended up driving millions of downloads, and generated about $80K in affiliate revenue over the weeks to follow. This was the catalyst, and I doubled-down on the strategy… ultimately earning millions over the next few years as a result.
This then provided the foundation for going on to build real brands & businesses for nearly two decades now.
But I often wonder… what if I didn't run that 20-minute experiment? What if I didn't catch that initial wave?
Who knows.
What I do know is that my story isn't the exception. Almost everyone I've met who's "made it big" with something has had a similar catalyst or key decision that forever changed their trajectory.
For some – like me – it was basically random. But for others it was intentional; a calculated risk that paid off in spades.
As an entrepreneur, catching the right wave – even just once – can change everything. But you need to know where the waves are gonna be… and where to be positioned.
And that's exactly what this Conduit Method lays out in detail.
The fact is, Google's new product reviews update (algo change) has completely wiped the slate across most markets, pummeling most of the prior competitors off the SERPs altogether…
Which means that it's now perfect timing for anyone willing to adjust their approach, give Google what it actually wants – and tap into the ultimate, evergreen strategy: targeting prospects in the final stage of the buying cycle.
And there's no reason this can't be your wave to catch…
I hope to see you on the inside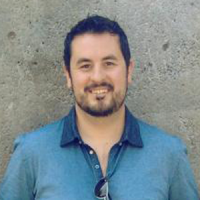 Chris Rempel
Founder, The Lazy Marketer
Proof Download